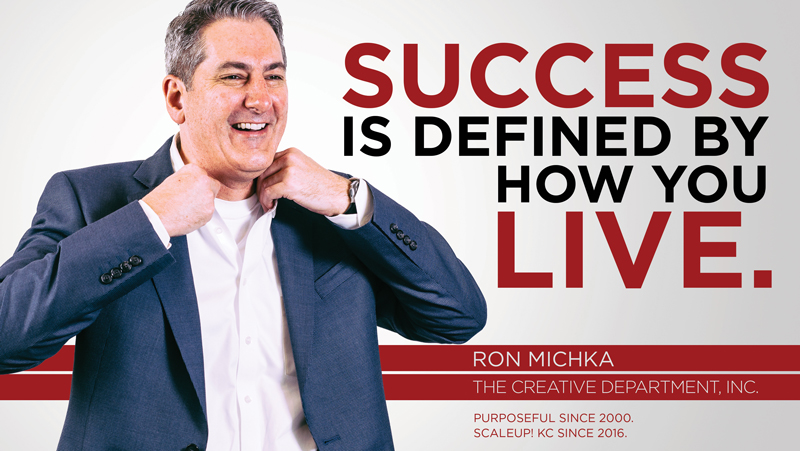 In January 2016, ScaleUP! Kansas City welcomed 16 local business entrepreneurs, one of them being TCD's Principal/Creative Director Ron Michka, to its third cohort.
ScaleUP! KC is funded by the U.S. Small Business Administration and facilitated by staff at The Kauffman Foundation. The program provides entrepreneurs with tools and resources to take their businesses to the next level, with an eye toward growth in sales and profitability.
Ron applied for the ScaleUP! KC program in November 2015, and The Creative Department, Inc., was selected to participate in this elite cohort of growth-oriented businesses. Over the course of four months, Ron collaborated with 15 other business owners and received specialized consulting from local business mentors and subject matter experts.
"A big part for most people, as it was for me, was taking time to step back and work on the business, not just in the business," Ron said. "Running a business and being good at something are not the same thing. I had to take time to make that transition from being a good creative director to a good business manager."
A big part . . . was taking time to step back and work on the business, not just in the business.
He likened the experience to that of getting a "mini MBA," as the group learned more about finances and business management strategies.
"Learning about and connecting with business and financial resources was very helpful. Our peer-to-peer roundtables were the best, as we all shared similar business hurdles and were able to share solutions with each other," Ron said. "I'm so grateful for the ScaleUP! experience."
Ron continues to attend ScaleUP! events and meet with some of his original cohorts over coffee. Members of the group share business challenges and exchange strategies for growth and improvement.
On September 21, 2017, Ron attended ScaleUP! Kansas City's sixth cohort graduation. He heard presentations from most of the cohorts and enjoyed conversation with current participants, ScaleUP! leaders, and other alumni.
Congratulations to the sixth cohort graduates, and best of luck on your business endeavors!
Read more about Ron's cohort group, here.
Find out if ScaleUP! is a good next step for you and your business, here.