HNTB Cross Platform Publishing
Adding digital publishing to established lineup of print publications
Editorial expansion
Before we became app developers, we were enlisted to research, evaluate, and present options for electronic distribution of HNTB's Designer magazine, an award-winning print publication we've designed and produced for years.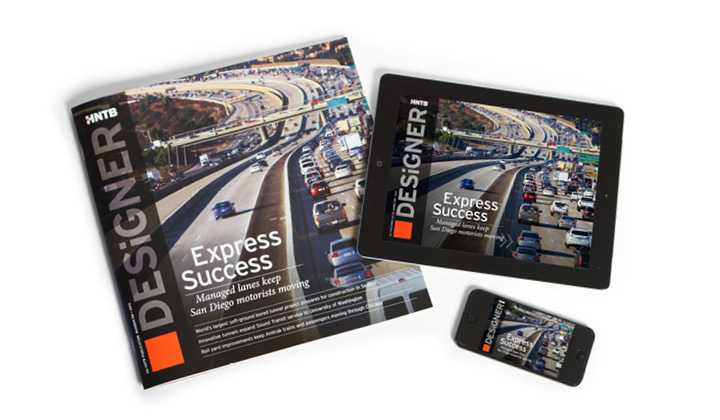 Entering the digital realm
After exploring a variety of digital, PDF, and "flip book" options, TCD turned to an interactive solution that allowed rich media content, including slideshows, videos, and audio clips.
Phase I of the HNTB App
With Adobe's Digital Publishing Suite (DPS), we designed optimized versions of Designer magazine for iPad and iPhone. With the addition of rich media and interactivity, the user experience was vastly enhanced, not to mention the improvement in mobility for the reader.
Take a look below at how the spreads above were redesigned for the iPad version.
The Creative Department is a proud sustaining member of AIGA.
We follow AIGA's Standards of Professional Practice and adhere to its principles of integrity that demonstrate respect for the profession, for colleagues, clients, audiences or consumers, and society as a whole. We utilize AIGA's Basic Terms & Conditions and Intellectual Property Provisions to maintain the professional practices of the design industry.