SMG Forum 2018
High-impact events call for high-impact branding
Event branding strategy reveals brand value
From the initial invite to the attendee experience, your event is a key communicator of your brand.
For SMG, the techmanity theme resulted from a need to cultivate big energy through environmental experience and visual communications leading up to the event.
The theme evolved around these foundational conference features:
an intangible idea (deciphering data to find human truths)
the Las Vegas location
top-class speakers, like Chip Conley of Airbnb and Frances Frei of Uber
TCD developed the event branding, creating an electric feel through contrasting colors, data patterns, and a geometric font.
Event deliverables included:
custom stage panels
personalized name badges
website
email marketing
direct mail
attendee giveaway
Setting the stage, in spades
TCD partnered with a staging company to assist in developing custom panels.
Name badges
Three types of badges quickly distinguished attendees, VIP members, and staff. Each was customized, by name, job title, and company.
Website
Whether it's a single landing page or a full-blown website, TCD can execute it. The techmanity website was amped up with "moving" data and rollover effects.
Email marketing
Concise messaging highlights exclusive event details, and engaging visuals motivate buy-in to the event experience.
Direct mail
Don't disregard the value of print. Direct mail is an effective way to tangibly stay in front of your audience.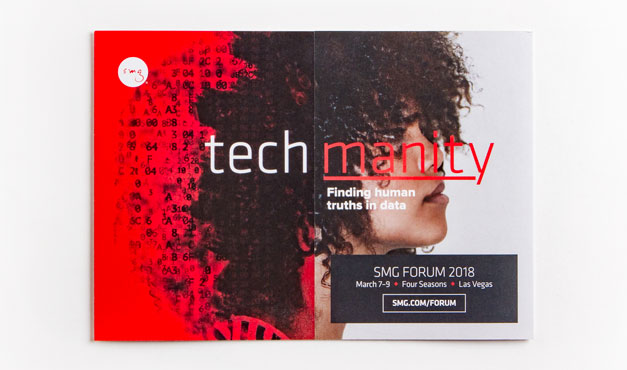 Playing the cards right
Consider a giveaway for attendees to remember the event, and more importantly, your brand. At SMG's Forum 2018, they received a techmanity-themed deck of cards to take home.
If you're seeking strategies for engaging audiences in events, we can help. Simply shoot us an email or call us today.
See how we UNLEASHED DISRUPTION at Forum 2017.