KCSourceLink's We Create KC Report
Showcasing five years of Kansas City entrepreneurship
A big story to tell
With an initiative to make Kansas City America's most entrepreneurial city — and a five-year grant from the U.S. Economic Development Administration — KCSourceLink connects individuals, organizations, and institutions to one another and the community. KCSourceLink selected The Creative Department to design and deliver its fifth We Create KC report. The preceding reports featured individual spotlights; however, with this "summary" report, TCD was charged with finding a solution for fitting in a number of groups, while maintaining a set page count and increasing content.
Consistent energy
Entrepreneurship is innovative and exciting. It was important to present these entrepreneurs in their most genuine states to bring that energy to the pages of the report. The TCD team worked with photographer Tim Pott to capture and combine groups of up to nine people.
Cutting the visual noise
TCD worked diligently to enhance the readability of the report. The depth of content created a great need for hierarchy in layout. Alternate layouts challenged everyone involved to mine for the true gold — to tell the story of KC entrepreneurship thoroughly while designing for the busy readers who would receive it.
Years of history
While 2018 marked We Create KC's fifth year, it also marked 15 years of KCSourceLink. The organization has played a massive role in connecting entrepreneurs with resources to start and grow their businesses. The design for a 15-year timeline evolved to show how entrepreneurship "takes a village," and its growth instigated a wraparound design flowing from the last spread onto the cover.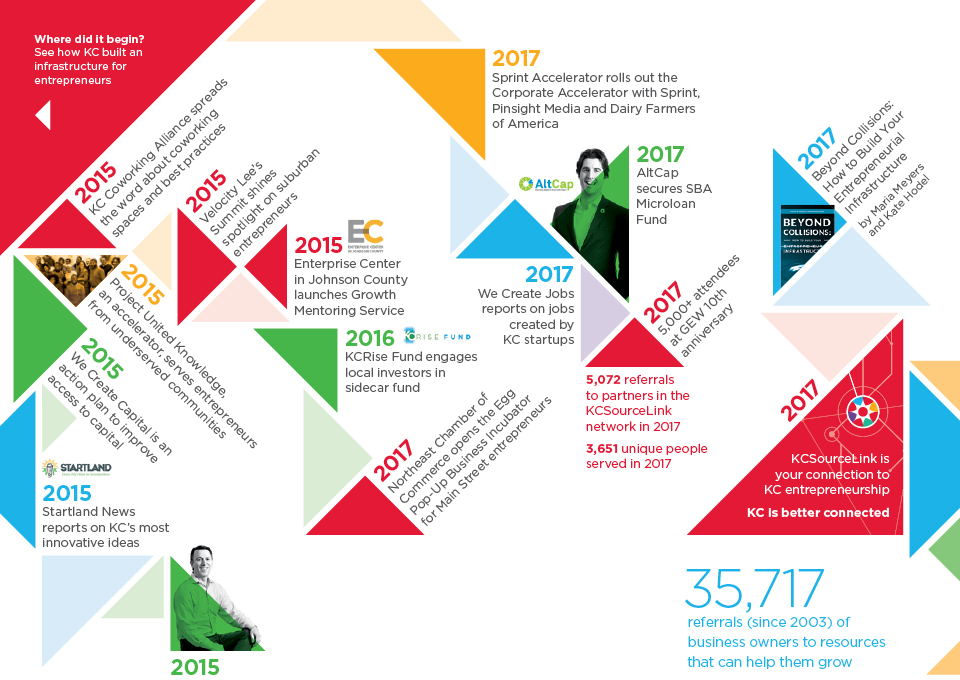 An eye for color
Following weeks of fine-tuning, We Create KC made it to press. TCD managed the entire printing process, giving a painstaking review on press, ensuring photography and brand colors printed consistently, and that registration was intact.
Building community
The report hit mailboxes and digital inboxes at the beginning of April 2018. A lighter-weight version mailed with the Kansas City Business Journal. KCSourceLink quickly received feedback, not only on the beautiful photography and layout, but also on the effectiveness of the entire piece.