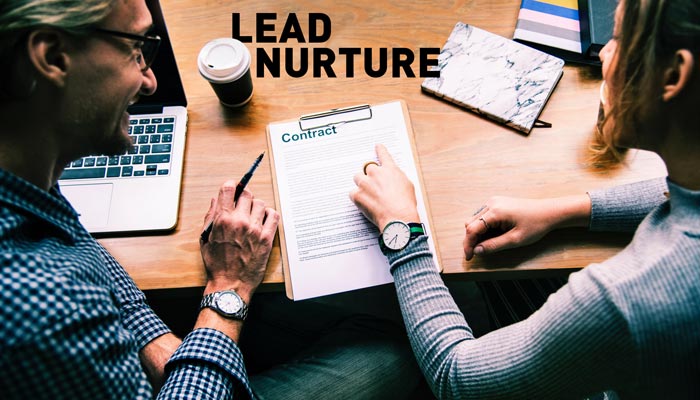 When your business captures a new lead, do you turn to your lead nurture strategy, or do you push the sale? Do you do any outreach, or do you neglect the new lead, allowing it to spill out of your sales funnel?
Surprisingly, 79% of marketing leads never convert to sales, and the lack of lead nurture is often the cause (MarketingSherpa via HubSpot).
Yet, when a company excels at lead nurturing, it generates 50% more sales leads at a 33% lower cost (Forrester Research via HubSpot).
Lead nurture defined
Lead nurture campaigns create effective touchpoints with your defined target group. They position your business as the best choice to achieve a prospect's objectives (HubSpot's Intro to Lead Gen).
Lead nurture requires a strong plan and great patience (since 73% of all B2B leads are not sales-ready, MarketingSherpa). Still, meeting prospects where they are is key to winning their loyalty and earning their business over time.
Here are our 5 steps to win and retain customers through lead nurturing:
1. Know your sales process.
If you haven't mapped out a sales funnel, this is crucial to initiate any lead nurture campaigns. It's imperative that you know your audience and anticipate your customers' entry and exit points in your sales process.
We have recently created sales funnels for clients. By evaluating their processes for getting (and keeping) customers, we chart the standard customer journey. Identify strong points (e.g., the success of customers who enter the funnel through organic search) and weak points (e.g., customer churn following a demo) to help you narrow your lead nurture focus.
2. Plan your lead nurture strategy.
With the insights gained from evaluating your sales process, clarify objectives. Do customers need more information about your offerings? What was lacking that caused them to bounce off your site? Answers to these questions can uncover your campaign's main idea and audience segments.
Email campaigns are an effective (and time-efficient) solution, but you can also send direct mail or cultivate relationships at events. Plan what you'll share and when you'll share it. What have you already learned about your leads? Consider how you can carry those conversations forward.
Create touchpoints with your leads on a regular basis ("regular" being relative to your industry). Communicating consistently ≠ constantly. For some, that may be 1–2 times a week, and for others, it may be 3 times a month. You know the pace of your industry, and we'd love to help you find that balance.
3. Share relevant content.
Be concise, compelling, and current. Use your findings from the previous 2 steps to drive your campaign content. You can also look to your website analytics to see what content receives the most attention.
Building trust and showing your expertise will be more effective than an off-putting one-time promo. Ideally, your communication answers questions that alleviates stumbling blocks in the sales process, moving leads closer to — or further down — the pipeline.
Additionally, sharing relevant content creates the potential to attract new website visitors and generate new leads. If your content is unique and reveals new insights, your emails are likely to be forwarded to coworkers or friends, expanding your reach and drawing new people to your business (HubSpot's Intro to Lead Gen). As you develop more and more content, maximize your reach even further by repurposing it.
4. Respond promptly.
Your responsiveness to leads is often indicative of your win or loss of a customer, as 35–50% of sales go to the first-responding vendor (InsideSales.com via HubSpot). On top of that, the odds of a lead entering the sales process are 23 times greater when that lead is contacted within 5 minutes versus 30 minutes (after an inbound lead converts on your website) (HubSpot).
Consider automating a lead nurture message when someone converts on your website, and have a plan of action when a lead reaches out to you. If the average response time of B2B companies to its leads is 42 hours, they're likely missing opportunities. Furthermore, only 37% of companies respond to their leads within an hour, and 23% never respond at all (HubSpot). Stay ahead of the curve, and prove that your business is attentive to its customers.
5. Measure success.
How did it go? If you're implementing a series of lead nurture campaigns, make sure you look at what worked and what didn't. There's no reason to recycle the same tactics if they're ineffective. Find a better way, and keep improving.
Know that lead nurturing usually isn't instantaneous; however, it is effective. (We explain marketing ROI more in depth in this post.) On average, nurtured leads produce a 20% increase in sales opportunities compared to non-nurtured leads (Demand Gen Report). When it comes to lead nurture, slow and steady wins the race.
When leads turn loyal
You're running a business. The obvious goal is to convert leads into paying customers. By maintaining an active, effective lead nurture strategy, you can move leads into and through your sales process.
The nurturing doesn't stop once you've "hooked" them. Another level of strategy comes into play: nurturing your client partnerships. (Though it's not a topic we're covering today, a couple customer nurturing strategies include showing appreciation through gifts or sharing insights through events.)
Through your lead nurturing, you can help prospects move to customers, and ultimately, to advocates. With advocates for your brand, you will be supported by a team ready to share its satisfaction with your services, creating another entry point for leads into your sales funnel.
Do you have a clear structure for your sales process? If not, call or email us. As strategic consultants, we can help you visualize and better understand your structure.
Already have a sales process? We can offer a fresh look, identify weak areas, and recommend marketing solutions. Call or email us today.